Around the World in a Bailey bag

Hello there BaileyWorks!
I'm actually from your new home (Newmarket, NH), but right now I'm studying in Perth, Australia! I just traveled to Bali, Indonesia, and someone took this snapshot of my 253 Courier. I wanted to share the photo and my story, since your bag has brought me and my few cherished items safely around the world! I am now a BaileyWorks bagger for life.
Thank you!
-Adeline Bouras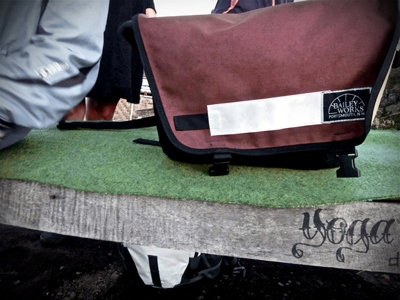 ---
253 by the River

This is Jane. Jane is wearing a medium 253 Courier (in celery) on the Lamprey River (right behind the BaileyWorks factory in Newmarket). Jane says it's the perfect size bag for spending a day alone in nature. She packed some lunch, a book, and some camera equipment, with plenty of room to spare for various small items.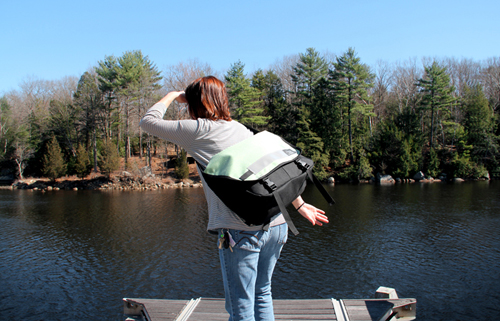 ---
Baby Transporter

Greg and his son with their BaileyWorks SuperPro in VT.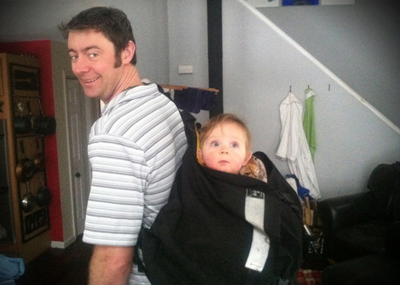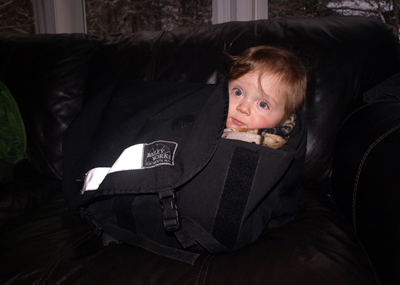 Bailey bag; Daily bag.


I was recently tagged in a multitude of photos on Facebook, and I noticed something...I'm wearing my bag in almost every photo. I bought one of your bags in Boston on a road trip years ago, and it's been with me on a bicycle in nearly every major US city. I live in Taipei now, and don't have a bicycle at the moment, but I do have a motorcycle, and I take my bag with me everywhere. The bag is literally with me all the time; when I'm climbing a mountain, tracing a river, in the rain, at a party...I just wanted to say thanks for making a super functional bag.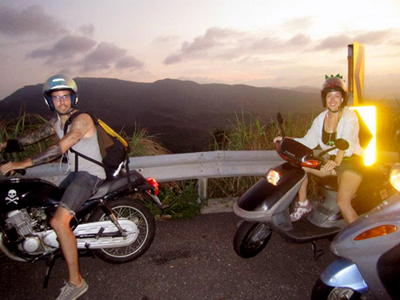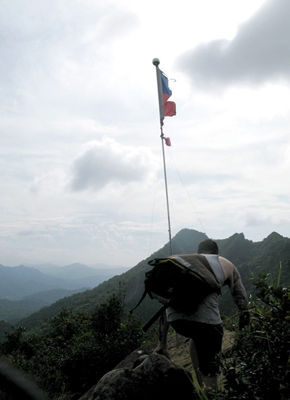 ---
How some people keep their zucchini from getting

squashed

.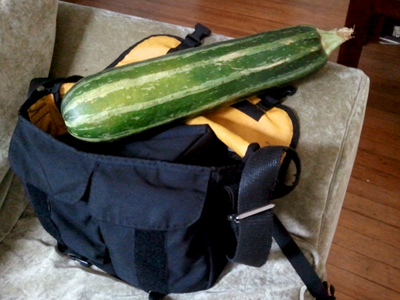 Giant zucchini being packed into my Bailey bag. Melissa has had her bag since 2004. Submitted by Melissa Bailey (no relation).
---
Taking a bite out of the Big Apple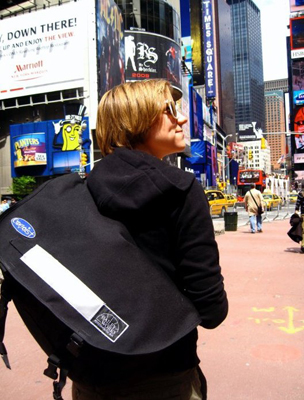 Me and my bag hanging out in Times Square Kathleen's had her BaileyWorks SuperPro for almost two years. Submitted by Kathleen Grusenski.
Hola from Hugos Place in Playa Blanca, Colombia! So my girlfriend and I, along with some friends, travel to Cartagena, Colombia for a week. I used my new red Digital Super Pro as my carry on bag. I also used it as my primary bag as we spent two nights at a remote island (Playa Blanca). Because we slept in hammocks/mosquito nets under a hut, we had no safe to store valuables. Instead, we used my bag to keep all our passports, cell phones, wallets, sunglasses, sun tan lotion and other items. It seemed like it never had a chance to relax like we did. It definitely got a workout from the 5 of us accessing our stuff. Needless to say it never left my side or sight. Though I have several messenger type bags, this by far is the most functional, durable and easy to adjust when you place on and remove. Without a doubt, I'll certainly use it for my next trip abroad. Thanks for making a great product!! Livestrong, Johnny V.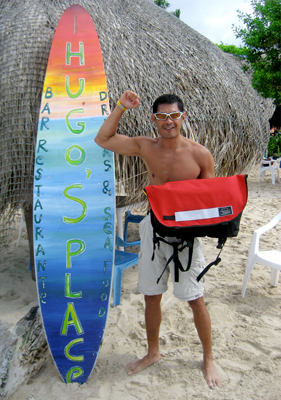 Life's an Adventure

(you'll need a good bag)
Besides using the bag to get to school and work nearly every day, it's also pretty useful for adventuring. Here it is looking out over the Waterpocket Fold of Capitol Reef National Park in deep Southern Utah during Spring Break 2010.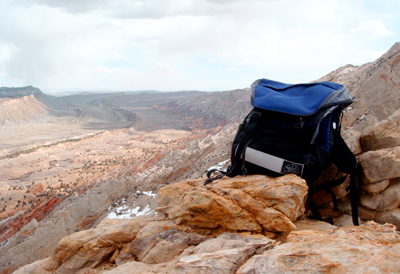 Posted by Alex Labby


---
Kit(ten) Courier does make us smile!
Hi Nice Bailey Works People!

I got a schmancy new Kit Courier (black with water bottle holder and a back pocket) and then sent it out West to a lovely artist who put a very fun retro JPop inspired image on it. Neko-chan is a good luck kitten beckoning good fortune and looking very sweet in her kimono and flowers. Made awesome by Bailey Works, and made kawaii by NAMU (http://www.etsy.com/shop/namu)!

Bailey Works + Etsy.com artist = local and far talented win! I hope it makes you smile.

ps. the Kit Courier kicks serious purse replacement ass without weighing a ton: <3 <3 <3
Jan!
I bought my Baileyworks Bag a long time ago to use while commuting 10 miles into work in Boston on my bike. After a few years my oldest son grabbed it to use as a book bag when he went away to college, then medical school, then his residency. I was reccently helping him pack up his stuff when he was moving to Florida to pursue a one year fellowship in sports medicine and I saw the bag leaning in the corner and asked him if he was taking it with him, secretly hoping he would say no and I could get it back. He did and now it has returned to its rightful owner. Having used other bags during the years it served him, I was thrilled to get my favorite bag back. The other bags just never seemed right, and got quickly passed on to my other son or friends. After all those years, the green Baileyworks bag still looked great, but the shoulder strap stitching was unraveling and the velcro on the pocket flaps had lost much of its grab. I called Baileyworks just by chance, spoke to Jan to see if they might be able to replace the strap, and lo and behold Jan offered to replace it for free after all those years of hard use. I quickly sent the bag off and within a few days it was back with a new strap, and they even had replaced the velcro!. My beloved bag is like new and ready for another 20 years of heavy duty work lugging books, beer. laptop, clothes and whatever else I can stuff in. Beats the backpack I had reluctantly been using hands down. Thanks Jan and Baileyworks
Posted by Mike Thompson
---
Across the miles, through the years...
Goes to work every day and carries snacks for first days of school, too. Our bags have lived in Ports, Ottawa, Woods Hole, Dublin and now Barcelona.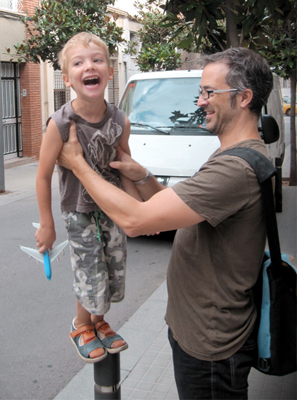 Posted by Kristin Sousa


---
Representation without taxation...
I went to Washington DC this summer for a wedding, and decided to take a day to explore our nations capital. I took the super pro with me and it proved to be the most comfortable bag, I barely felt it on my back. I recommend these to all of my friends, and after our trip I wouldn't be surprised to see a few more super pros making appearances. Not to mention they are made in New Hampshire so I like to represent the granite state whenever I can. It is nice to a have a product made 30 minutes from your house and not a 30 hour plane ride.
Posted by: Adam Rourke
---

Just wanted to say...
...fucking thank you for making the best bag ever. I live in Boston and ride everywhere, have been for the past 7 years. Last week, I got hit by a car while riding. Guy ran a stop sign at 5 am, direct impact. I flew out of my clip-ins, over the handlebars, and onto the street, through the air, landed hard, and slid across the pavement, 20 feet from the bike--- but I landed on my bag! I have a small citizen, custom forest-y green (looooove that color!) and if I hadn't been wearing that bag my back would be in a MESS. Like really fucked up. But no. I was wearing my helmet, gloves, etc, and my BAG, and I have no injuries. Plus my bag looks fantastic. I don't know how you guys do it, but keep doing it. Because you rock.


Posted by: Anne Ferguson

---
It's only been seven months since receiving my bag as a gift and let me tell you, it's the best bag I've ever owned. I have yet to run out of room or confidence that this bag can handle anything thrown its way. This past holiday weekend I decided to test the bags limit (more like mine) by throwing my two growlers in it and biking to a local brewery. Needless to say the bag not only made things easier, it also kept them nice and cold. I guess you can add 2-3 growlers to the list of what it can handle!


Posted by: Andy Bass
Unseasonal weather...
Hey there guys- I just wanted to write and tell you how much I love my Baily Works bag (SuperPro medium). I bought it about 2 years ago, and ever since I've known it's the best bag I've ever owned. I've used it for everything from carrying my extremely heaving nursing school books, to carting home farm fresh veggies from my CSA, to even carrying a 6 pack or two... but what really brings me to write this letter is what happened today.

I coach a high school Ultimate Frisbee team in Boise, ID and despite the fact that it is supposed to be summer (May 22!), we found ourselves in the middle of a rain/snow downpour for our end of season tournament. As everyone huddled underneath blankets and umbrellas clutching their bags, I smiled smugly and concentrated on keeping myself dry, not my stuff: I knew my bag would take care of that so I let it sit and get soaked for 2+ hours. And, just as I expected, when I got home everything inside my bag was bone dry, even though I couldn't say the same for myself.


So, while I may be the minority out here in Timbuk2 country, I think I may have converted some to the Bailey Works family today. I think everyone wishes they had the same confidence in their 'water proof bag' as I do. So, thanks for everything you do and for your bags- you definitely have a life-long fan in me


Posted by: Kathryn Cooperstein
I was driving in rural Ethiopia when I came across this herd of camels who had traveled hundreds of miles with their herdsmen in search of water in a drought. I couldn't resist the opportunity to hop out and chat with them. I prayed with them that they would find a watering hole. But what the little kids really liked was when I opened up my 253 Courier and started handing out candy they had never seen before! And oh yeah, the 10 foot camel got a little too close for my comfort. I was going to hide behind my bag if he got any closer!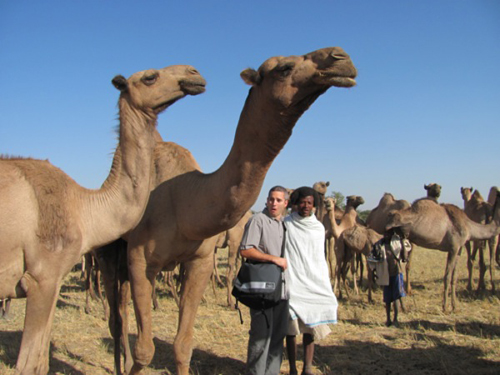 Posted by: Ralph Leo
---
Between us, we have at least 10 Bailey bags (two of each, basically). they have been with us on planes, trains, sidecars, and scooters here in Boston and on our travels. On the sidecar they've taken the back roads of the south of France, down to the Chesapeake bay, up to Halifax, and throughout New England. Even on the wettest days, we never worry about having dry clothes in our bags. Thanks BaileyWorks crew!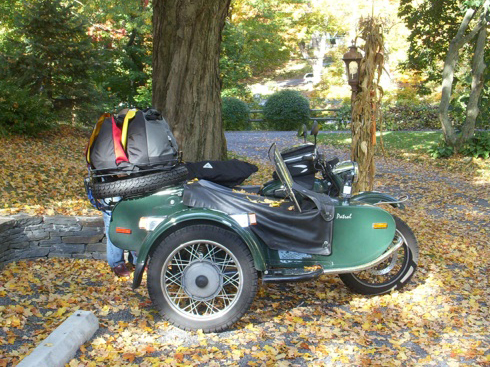 I'm an ex Vietnam combat paratrooper and I know a little about bags. My Super Pro size large has been everywhere with me including many countries. I have never run out of room, the only limit is what weight I can bear. Simply put the Perfect Bag bar none. Great job.
Ella demonstrates an alternative use for a SuperPro.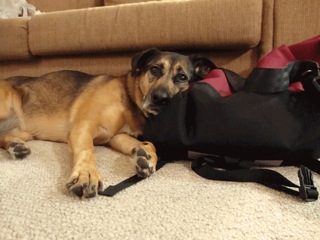 Posted by: Jonathan Simon
---

It Wears Well
I moved to Portsmouth back in October 2006 from Seattle, WA. My girlfriend Michelle told me all about Baileyworks before I ever moved. I got on your site and that's when The Craving began.
I was in sore need of a new bag, and I was excited about being able to support a local small business in my soon-to-be new home.
I've had a burgundy courier bag for years now, and it still looks new and shows zero wear and tear. I am very proud to be one of your customers, and tell everyone who's looking for new gear to start with you, no matter where they live.

-Steve Johnson
---
I live in Amsterdam and ride my bike nearly everyday- rain or shine. I needed a weatherproof bag of the right size, with a place to clip a light and also some reflector stripping. I remembered BaileyWorks during my last visit home to New Hampshire. Thank you! BaileyWorks should really be selling bags in the Netherlands!


BaileyWorks note: We can ship anywhere!

Searching for Alien Life on Earth
I've been using my Super Pro day every day for all my errands around Cambridge, MA. That said, it sometimes gets to enjoy more interesting outings... like searching for alien life. No, seriously! In this picture you can see my bag being used to haul a number of water and mud samples from Mono Lake outside Yosemite CA. The lab members pictured needed help carrying the filled bottles back from the lake to the cars (about a 1/2 mile hike) after other bags started breaking. So I put one in my Bailey bag, then another, then another... well, you get the idea. Jaws were left open at the amount of stuff I could fit in, is all I'm saying. Check out this link for a bit more about how Bailey bags helped in the search for alien life! http://www.astrobio.net/index.php?option=com_expedition&task=detail&id=3259
Posted by: Jonathan Simon
---
Bought my 253 Courier (Small) back in the summer of 1998 right before I started High School. I have used it every day since then, for all of High School, College, it even acted as a drum stick/guitar string / cable bag while my band was on tour back in 2004. My 253 is my everything. Thanks to everyone at Bailey for an awesome product! I can't wait to pick up a Super-Pro!!!
- Matthew Pilar

---
SuperPro saves the skin off his back!
I got my super pro M in september 2008 after getting a road bike for the first time that summer. It was perfect timing. Not long after getting the bike I had my first run in with the ground. A car cut me off as I was riding through the UNH campus and I did a front flip over his trunk and landed on my super pro. Needless to say the bag was perfectly fine, and it saved me a lot of damage at that. I can't say the same about the huge dent that I caused on the side of the car. I guess thats the price you pay when you go head to head with a Bailey bag owner. Thanks for such a great product. It was worth every penny.
- Dustin O'Hara - March 29, 2009
---
Spousal envy ...
I was in your shop today while my wife picked out a new bag. As we walked out I felt bad that I couldn't justify one for myself. I commented that "they're losing business because they make such durable, long-lasting bags."
My bag is from 1996. I don't think I've left the house without it for the past 13 years. That's about 4750 days of use. Sorry I didn't buy a bag for myself today, but the old one is still going strong. Thanks!
Posted By: Dave Tufts - March 9, 2009
---
If It's Good Enough For Buddha ...
...Probably the only way to make a SuperPro look small.
Posted by: Aviva Hamavid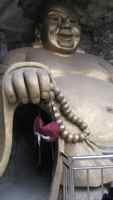 ---
The Bags Change with You
Over the last, I don't know, nearly 20 years it seems, I've had Bailey bags. The oldest ones are in as good shape as the newest. I have three. They've carried bread from Ceres, phone numbers from the Press Room, books from Stroudwater, a dog from the pound, overnight clothes from my boyfriend's house, computer and really poorly written papers throughout college, food for the airplane ride, decorations for the wedding, favorite pajamas and a camera for the hospital, all the stuff I could steal from the hospital, diapers, and dirty diapers. Today one is my purse (none of your business what's in there), one is at day care, and the big one is half filled with stuff for vacation. Thanks guys. I hate cheap stuff. These bags will go with my son to college.
Posted by: Amy Sterndale - Jan. 7, 2009
---
BaileyWorks: Protection from Angry Wild Animals


Hi guys,
Just wanted to again thank you for my yellow Portsmouth Criterium
Messenger bag from two years ago. I left the house at 5:30 this
evening to go to the Redhook and join the running group that departs
at 6. As I was approaching my car I caught what I thought was the
neighbors cat coming towards me. Just before it jumped at me I
realized it was an angry animal not cat like. I swung the bag between
him and I. He latched onto the bag and I swung him around like a dog
playing with rope.
As the creature swung into the air and across the parking lot I
noticed it was either a fox or a small coyote. Either way he was none
to happy with me and decided that he wasn't going to let me get the
best of him. As he lined me up again I tried to get into the car. He
must have run under the car because all of a sudden my bag is being
pulled under the car. I thought this Crit bag was a most wanted but
seriously even by the animal kingdom? Again I found myself swinging
this poor creature around as he was shaking the bag. He slid this time
with a roll and crashed into a neighbors car.
Well, now it was like a spaghetti western. I'm in the middle of the
parking staring at this creature. He's across the parking lot in the
classic bad animal head down looking at me sideways and breathing hard
pose. I can just tell that he wasn't done yet. I could just see him
cracking his knuckles getting ready to fire. He leapt into action and
bolted at me in an S pattern. I dropped my jacket and my water bottle
and went with what worked twice already. He jumped at me and I swung!
I connected with that little bastard and in my complete disbelief he
latched on! What the hell! This thing is possessed.
I swung him into the car this time and he fell to the ground. I backed
up. He stood and stared at me. I really wasn't sure what he was going
to do so I backed up further. He went under the car. I took this
moment to get my phone out of the bag and call the police. Somewhere
between me calling and the police showing up the creature vanished.
The police mentioned that earlier a little girl was also attacked but
it got her jacket fortunately.
My point to all of this is to let you in on a marketing tip. Bailey
Works bags are not only functional for carrying items across town,
across country or as in my purpose, across the world, they are also an
important piece of safety equipment.
Thanks again. I am so glad to have your products in my arsenal!
Emailed to us by: Geoff Hull
-
Jan. 5, 2009
---
From Our Friend Fred
I have had Bailey bags since 1992, I think. This one is having a visit to Petra in Jordan.
Posted by: Fred Hoyt - Dec. 10, 2008
---
More Baileybags in China
Whether it's riding my bike throughout LA, travelling in China, DJing, or simply breathing, I carry my Baileyworks with me. I love it. Thank you for being awesome.
Posted by: Larry Sun - Dec. 8, 2008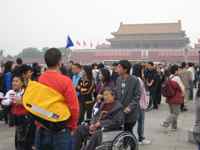 ---
Boxer Proof
Aside from my small messenger bag which I've had for over 8 years, I've been using a Bailey works laptop bag for three years now too. I never thought the day would come when that would be tested until I brought my computer to my boyfriend's house. Early in the morning, his roommate's 10 month old boxer decided to grab the case (with computer) off the couch and have some fun. I ran down stairs to find it on the other side of the room covered in slobber and dog hair. The computer was fine! That dog had destroyed couches, mattresses, even cd collections, but he couldn't get through my Bailey Bag. Thank you so much!
---
I currently own a Bailey Works laptop sock and two Super Pros (large and XL). They have been my briefcase, my flight carry on, my dry cleaning/laundry bag, my backpack, my luggage, my shopping bag, my grocery hauler…and one time, when my dog Henry hurt his paw…an emergency corgi hauling bag. The bags NEVER fail. No matter how big and heavy the load, no matter how bad the weather gets…they just work. I have had other bags from other companies and they do not hold a candle to your product. It is not often that you find something that always performs….your bags ALWAYS come through. Many Thanks!!!!
Posted By: Mike Buksa
---
Not kidding about the bag being waterproof
I accidentally left my bailey bag outside in the yard night. Turned out to be one of those random summer nights where a rainstorm appears out of nowhere. After taking a 9 hour beating from the rain all night, my laptop, papers, mp3 player and everything else in the bag were completely dry. Everything in my gym bag, which had been sitting beside my baileys, was soaked to the core. Amazing!!! Love your product, keep it up!
Posted By: Gloria
---
7 Years and almost brand new
I picked up a royal blue medium 253 in the summer of 2001. Used it for my last two years of high school, throughout college, and now use it for work. It has been my piece of carry on luggage for every trip I have taken, including a semester abroad. Love your bags!
Posted By: Paxton Ramsdell
---
Awesome bags! I have had my super-pro XL for something like 7 or 8 years now and it is amazing! Skiing, traveling, riding to work or the grocery store...no bag does it better. Thanks!
Posted By: Mike
---
Bailey Bags in China
My super pro was by far my best 16th birthday present. I haven't gone a day to school without it since. It's been my carry on for every flight I've taken since, and it didn't leave my side for my four months in China. Here's me with my bag at the Terracotta Warriors!
Posted By: Aviva Hamavid
---
Great for Groceries
Amazingly, my Super Pro (L) was able to handle the ride home with the following groceries packed in: - a gallon jug of milk - 64 oz carton of orange juice - 64 oz carton of egg nog - 3 liter can of olive oil - 48 oz jug of vegetable oil - 21 oz box of cereal - 18 oz box of cake mix - two 15 oz cans of black beans - a head of garlic When I got home I realized that I hadn't even thought twice about carrying all that weight - I knew that my bag could handle it. I should have thought twice about wrapping the garlic up, though. Then again, I kind of like my bag smelling like a French kitchen.
Posted By: Eric Mattison