UPLOAD
A STORY ABOUT YOUR BAILEYWORKS EXPERIENCE OR SIMPLY BE UPLIFTED BY SOMEONE ELSE'S MEMORIES.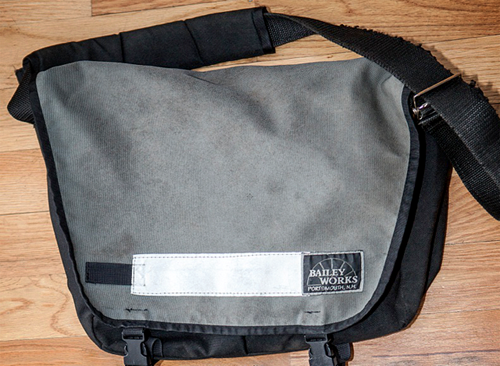 I have had the same Bailey Works bag for 12 years. I bought it in 2002 when I was an art student in Boston and used it everyday from then to now. I relocated to NYC in 2004. I have taken it on every photo shoot I have ever been on packed abusively to the brim with gear, and on every trip (personal or business) I have ever been on, which is quite a few when all added up. It has been to the jungles of Central America, the medina of Marrakech Morocco and to the deserts of California. It has been on the floor of the NYC subway and to every backstage, behind the scenes and weird scene you can imagine. It has been dragged, dropped, sprayed, splashed, thrashed and abused. It is still in the same condition as the I bought it aside from some stains and the slight fray in the shoulder strap where the metal clamp bites down. What the hell? Good job!

–Ben

Tote-ally Fun!

I live 2 floors up from the BaileyWorks factory in Newmarket, NH so I thought it would be fun to take their Saturday Sewing Class. I've never sewed a stitch in my life, but I had such a good time...and the best part is I left with something I made myself!

What a great hand-made gift. Thank you BaileyWorks!

Ryan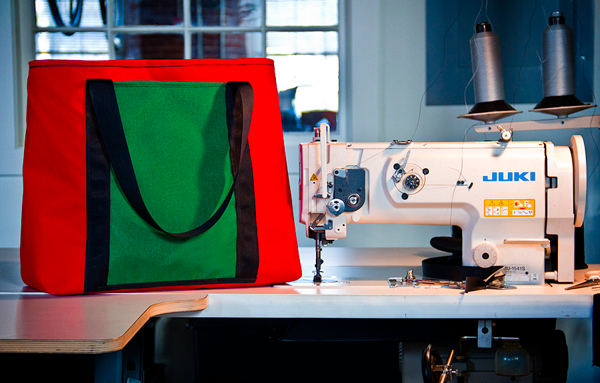 Worth the Wait

After 14 days in customs (Spain rules...) I have just received my bag! I love it and the size is better than I could expect!

Thanks for all your support and best regards!

Jaime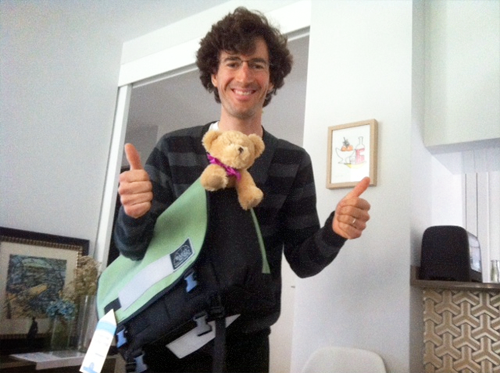 NAHBS is fun for the whole family


I recently attended the NAHBS in Denver with my family. At your booth, my daughter Stella took an immediate liking to one of your handlebar bags, as it happened to be just what we had been looking for AND her favorite color. While we were looking at the bag, one of your crew gave her a very nice BaileyWorks wallet filled with crayons and drawing paper. Stella was a bit stunned and beaming with her gift, and I was in awe at the generosity and thoughtfulness of BW to have such a fun item for kids at the show. As a supporter and advocate of bicycling, and family biking in particular, I highly commend your company and employees on your principles, integrity, and quality products.

Best,
Andy

SuperPro is Awesome!!!

Hello Master Craftspeople,

Just wanted to let you guys know that I got my XL SuperPro today and I love it! The bag is beautifully designed and built. Even though it's a lot bigger than my Timbuk2 bag, it feels smaller when I'm wearing it because it absolutely fits me like a glove. It's wonderfully easy to put on and cinch up, and it doesn't move an inch when I'm riding with it. My other bag always crept to the right no matter how tight I had it. The SuperPro stays put, is extremely comfortable, very secure, and after a while it just felt like a part of my body! I hardly even noticed it was there.

I love every detail on the bag, particularly the padded strap, the burgundy color, the buckling and cinching mechanism, the assortment and abundance of pockets, and most of all the overall perfect balance of the bag on my back. I ride 75-100 miles a week, year round, in all the weather Chicago has to throw at me, and this bag will be right there with me through it all.

Thanks for making such a kick-ass product!!! I'm thrilled to finally own one of my own. Cheers from the Windy City...

Thomas Hayes



A great bag visits the Great Wall

Long time fan and carrier of BaileyWorks bags, Daniel Ing, snapped these photos on a recent trip to China.


Around the World and Back

Rich Roat, of House Industries, recently took a Medium Whalemouth Duffel on a summer bike trip in Europe with his son.

"I got all of our gear for two weeks in there. Perfect size!"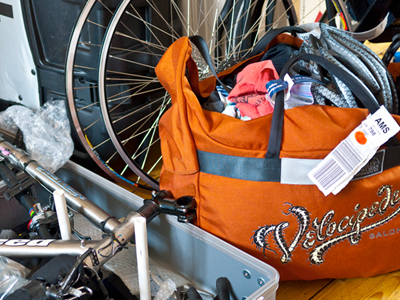 Wow, it's been 7 years since I got my Super Pro! It's been used as a bike commuter bag, a diaper bag (kids now 3 and 5), an airline carry-on for the kids' stuff on 5 trips to Eastern Europe, a general kids' stuff tote on numerous car adventures, to bring groceries home on the bike, and of course it's carried many cases of beer! It still works great and the only sign of wear is that the yellow cover could use a gentle wash. Thanks for a great bag that has far exceeded my expectations and has become a standing accessory for all of our family activities.

-Joel Stone

---
Just as nice when you buy one twice

Hey guys,

I just wanted to tell you guys how much I love your bags. I bought my first large messenger bag almost 3 years ago when I got a job delivering food on my bike. Unfortunately the bag was stolen at a bar in June. I replaced it immediately; same size and shape, but I picked a different color (went from black to green). I keep everything in it, from my guitar pedal board to a 30 pack of beer. Last night I filled it up with beer, meat, and ice and used the bag as a portable cooler, although it drips a bit. Seriously, the bag is fantastic.

Thanks,
Kurt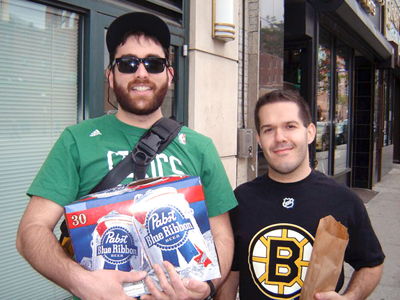 ---
BaileyWorks Saves Lives


Bought my husband one of your messenger bags about a year and a half ago. It pretty much saved his life in July when he took a pretty bad spill off his bike. The pavement tore all the way through the reflective strip, outer shell, rubber, and both sides of velcro. Without his BaileyWorks bag he probably would've been in way worse shape...and added to the $11k emergency room visit.

Thanks again for everything!
-Sara


Around the World in a Bailey bag

Hello there BaileyWorks!
I'm actually from your new home (Newmarket, NH), but right now I'm studying in Perth, Australia! I just traveled to Bali, Indonesia, and someone took this snapshot of my 253 Courier. I wanted to share the photo and my story, since your bag has brought me and my few cherished items safely around the world! I am now a BaileyWorks bagger for life.
Thank you!
-Adeline Bouras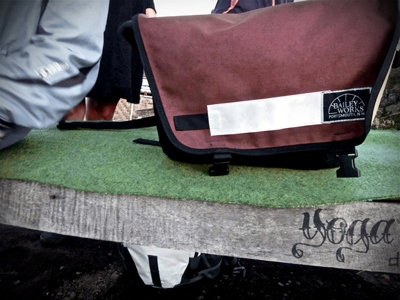 ---
253 by the River

This is Jane. Jane is wearing a medium 253 Courier (in celery) on the Lamprey River (right behind the BaileyWorks factory in Newmarket). Jane says it's the perfect size bag for spending a day alone in nature. She packed some lunch, a book, and some camera equipment, with plenty of room to spare for various small items.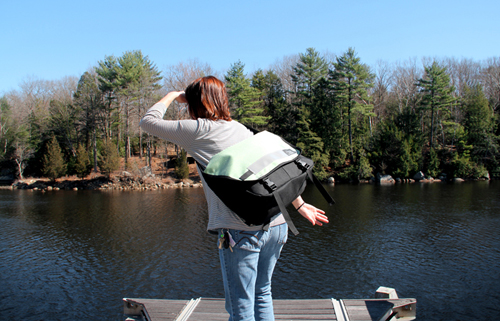 ---
Baby Transporter

Greg and his son with their BaileyWorks SuperPro in VT.