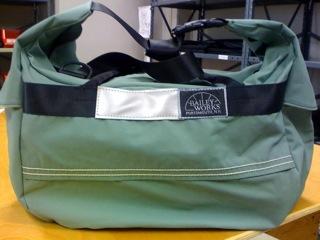 Turning Tents into Bags
It all started with a little tent. It was 1980; the time of Pac Man, Olympic boycotts, Dallas (spoiler alert: No one shot JR ? it was only a dream!), 22% interest rates, Mt. St. Helens and ? according to some ? the worst season in Saturday Night Live history.
It wasn?t all bad though; we still had great tents. Like this one:

But, alas, even the best of tents do well to survive three decades in the hinterlands of Hilton?s Tent City?s inventory shelves. So, after 30 years, we?ve decided to do something. We?ve taken the unused and still-perfectly-good light green cotton canvas complete with tags, seams, grommets and other hardy accoutrement and made ? what else? ? very cool bags.
Like SuperPros:

And Whalemouth Duffels:

These bags are fun and funky and one-of-a-kind. And, as always, made right here in New Hampshire. They will bring you back to the nostalgic days of epic Olympic Hockey, ABSCAM and Calvins. Ah, good times.

If

you want to buy one -- just visit Hilton?s.